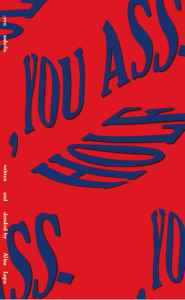 Limited edition book, available for purchase at: Atheneum Boekhandel, San Serriffe, Boekie Woekie Amsterdam, Peer Paper Platform, Motto Distribution Berlin and p-u-n-c-h Bucharest. Also a part of Zentrum für Künstlerpublikationen, Bremen, in the exhibition Künstlerbücher für Alles.
More on: http://youasshole.me/
Design realised by: Andreea Peterfi.
Printed at: Pantheon Drukkers, Velsen-Noord, The Netherlands, in an edition of 200 copies.
"An intelligent and literarily written account of 'the art of assholedom', shining light on all-encompassing and ruthless art as/is life as represented in the acts of Kippenberger, Lee Lozano, Andy Warhol."
— the northern committee
"Truly unapologetic assholery of which (and because) the 'what' and the 'how' and the 'why' remain hard to grasp – leaving those who try with nothing but a blank stare: why accelerate on a dead end street? Is there a way out - a secret, or a lie? But told by the beholder it still remains a bitter fairytale."
— substantial times
"So there is a moral after all, despite the critique of art world mechanism that is convoluted and captivating with a discernible joy for provocation."
— amsterdam tribune
"A voice that we can't help but think is yet too cautious to actually touch upon the unknown knowns."
— the moral observer book review